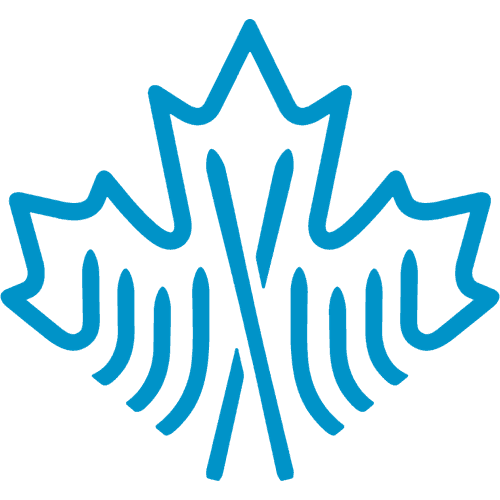 Nordiq Alberta Bursary Fund
Over the past season, Nordiq Alberta began exploring ways we could help support athletes in the province of Alberta. After many discussions, we are pleased to say that we developed an Athlete Bursary Fund to help support athletes attending international competitions. We are also excited to let you know that through this program we were able to support four athletes during the 2020/2021 ski season: Anna Pryce, Xavier McKeever, Tom Stephen, and Sam Hendry.
All four of these athletes have shown a high level of commitment to cross country skiing, and it was an honour to help these athletes with their competitive endeavours. Read about how this bursary has helped these athletes below!
Anna Pryce
Dear Nordiq Alberta,
I have really enjoyed being on the Alberta Team for the past 6 or so years. It has provided me with so many cool opportunities for my skiing but has also been a big player in getting to build relationships my friends in the ski community. Whether it was hanging out in Europe for three weeks, or having camps close to home, they've all had a huge impact on me and I feel so fortunate.
I know how hard everyone at Nordiq Alberta works and their hard work never goes unnoticed. Every skier who has been through the Alberta Team program is so very appreciative of the effort that goes into developing us as athletes.
This year has been a weird and tough season for everyone. Although we were unable to have any camps, Nordiq Alberta has still supported me in whatever way they could, with this year being helping to subsidize the cost of my trip to World Juniors in Finland. As I have now moved away from my parents, many of my expenses are up to me to cover. This support given to me was a huge help and something I am so appreciative of.
Although I am now too old to be on the Alberta Team, I won't forget the experiences I have been able to have through this team and all the ways it has helped me and made me the skier I am today. You guys rock!
Tom Stephen
Dear Nordiq Alberta,
Thank you so much for the support you have provided for me this year. I would like to send this letter to show my uttermost gratitude for the investment you have made in my ski season. It has helped me compete at a high international level and represent my country at the 2021 World Juniors in Vokatti Finland. This year has been very defining for my development as an athlete as I have reached my goals for performing in the top 10 and top 5 on the international stage. Not only did I reach my desired goals, but I have found new confidence in my skiing ability and what I can accomplish as an athlete. All of this was possible with the amazing support you have given me, thank you so much for your investment in my athletic protentional.
Sam Hendry
This past season I participated in the U23 World Championships in Voukatti Finland. I was fortunate enough to be selected for the trip by Nordiq Canada to compete in the 15km Skate competition based on results from the previous year. Obviously in such strange times the trip would require a complicated flight itinerary, many COVID-19 tests, isolation, and other pandemic related burdens. Yet, in a season with no, or few racing opportunities the athletes felt not only grateful to be competing again but motivated to race harder than ever.
As for my season, since mid-November I had dealt with the instability of preparing to race, having competitions cancelled as little as days or weeks before they were scheduled. This frustrating reality of the pandemic lead to many motivational challenges and irregular training patterns, however with the hope of a U23 World Championship always on the horizon I reminded myself to stay focused and motivated for the road ahead. After a variable and competition free start to the season I finally had the chance to participate in my first competitions come January. A string of NCAA qualification events in Utah and Colorado. All of these races went well for me and my confidence in my training, fitness and ability to deal with the pandemic thus far were high leaving for Finland. Arriving overseas before the races began, I had plenty of time to train and prepare as best I could for my only important international race of the season. The days leading up to the 15km went well and I felt as ready as I ever had to perform at my highest level. And then, the important day arrived, and I failed to meet my expectations and goals. A very disappointing result in the 15km meant not only was I upset with my race but confused as to what went wrong prior to and during the event. Without another distance race at this year's edition of the U23 World Championships I returned home to better understand the experience and race.
Despite the discouraging result, the trip was still so valuable to me as an athlete. The learning that took place about how to generate a top tier performance and finishing position was so valuable and something I will not forget in my future as a ski racer. Everything from sleeping and eating to training and tapering at these competitions is invaluable, this lesson allowed me to review the time leading up to this race and identify which training sessions had gone awry and how to better prepare in the future. With this experience in mind, I resumed collegiate racing in the US having fantastic results against many strong athletes who had proven themselves both domestically and internationally. In the western circuit I finished as the second overall skier and was twice on the podium at the NCAA championships in New Hampshire finishing 2nd and 3rd. Of course, these results are not as important as the U23 World Championship, but they go to show how the learning that occurred for me in Europe this winter led to much faster skiing and excellent performances later in the year.
Looking ahead I fully believe experiences like these will generate success for me in high level racing. In the 2020 season I finished in the top 20 at U23's and am motivated to bring my best back to Europe for U23 World Championships and World Cups next season. Thanks to the trip from this year, when the time arrives, I will be ready, fitter and more prepared than ever before.
The Nordiq Alberta grant I received to attend the U23's this year was not only extremely helpful in lifting the financial burden of attending such an event but was instrumental in allowing athletes like myself to attend races like these, either to perform successfully or experience the elite European racing level as I did this season, bringing home new experience to better oneself in the future. Furthermore, I find grants are often felt to only lift costs for competition such as this one, but the impacts are much more profound. Every dollar saved for an athlete means time they can put into their sport instead of working or raising funds. In the summer, fall and winter months this enables athletes to focus on training and recovering, arriving in the season in better shape and set to perform at their highest level. I would like to thank the Nordiq Alberta board, directors and coaches for this grant for these exact reasons. The extent to which this money can make a difference to an athlete cannot be underestimated.
Xavier McKeever
Thank you Nordiq Alberta for providing us with funding this year to help us achieve our goals. It is very helpful to get some extra support to cover the costs of different things. The subsidy I received was used to offset the cost of my World Juniors trip. Once again thank you for providing us with the subsidy this year and have a good summer.